The Pixel: Urban Arts Newsletter – March
On March 8th, Urban Arts and sponsor partner Microsoft threw the best party in Manhattan – the Urban Arts Color Ball. Not only was this year's event the highest energy yet, but we raised $650,000 to support our programming and level the digital playing field.
Enjoy our "Best Of" Image Gallery and a play-by-play of the evening! To see more photos, click the button below.
Urban Arts and Microsoft welcomed hundreds of brilliant guests to midtown Manhattan to support our mission and to celebrate the work of our students. Nine student performers walked our audience through the birth of a video game, from conception to art, to music and mechanics, to the completed product and launch. Students showcased INBODY, a fully student-created game where the player takes the form of a single white blood cell with the goal of healing its host body. As our students explained the game, they defined the role they each played in bringing it to life. Not only did our student performers do an incredible job on stage, but they have some big things on the horizon. Ceyda, a promising digital artist, just received a full-ride to Columbia University this Fall.
Congratulations to Gisele Muriel, the 2023 Nagler Scholar, who left everyone a bit teary-eyed with her heartwarming speech honoring her parents and those who have mentored her along the way. A senior at Long Island City High School, Gisele received $60,000 from Board Member Niclas Nagler's annual scholarship fund. She is still deciding on which college to attend but has plenty of options!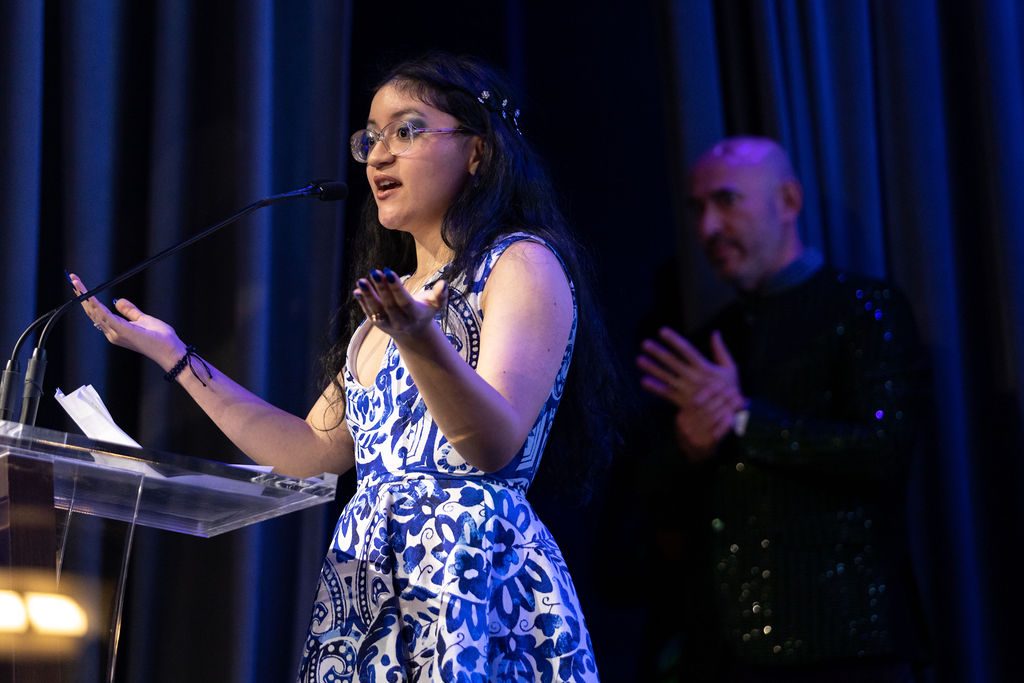 "My parents had found a computer in the trash compartment of our building, but after a bit of renovation, it quickly became an essential tool I'd rely on for years to come. With gestures such as these, they showed me the art of creating something from nothing. My father built all of our shelves, drawers, and closets while my mother would knit our clothes and stick googley eyes on old socks to serve as toys. They showed me the beauty of creating something from scratch, a practice I implement every time I make a video game." – Giselle Muriel
Our keynote speaker Tammy Levine (General Manager of Game Developer Marketing at Microsoft Xbox) spoke of her unlikely journey to career success through the lens of her family's dangerous and nearly impossible immigration to the United States. Of note were the stories of strong women that gave her the chance to be where she is today – a well-timed message for International Women's Day.
"What Urban Arts does—what everyone in the room is doing— is making the impossible possible…. "For the students, for the alumni, tackling these questions—networking, resume writing, what's an internship?, how do you get an internship? —you may be the first person in your family to do the impossible." – Tammy Levine
The term "interactive arts" was brought to life by Timothy Goodman, star artist and illustrator who crafted a 10×20 live drawing over the course of cocktail hour, inspired by the realtime input of our guests. His new book, I Always Think It's Forever, was just published by Simon & Schuster. Get your copy today!
---
And Big Freedia, our towering Artistic Honoree named "The Color Baller", whipped the crowd into a joyous dance party, freestyling over her—and Beyoncé's—hit Break My Soul in a rain of confetti. Her critically acclaimed memoir, God Save the Queen Diva (also Simon & Schuster) is now out in paperback.
Thank you to the Urban Arts Board who always go above and beyond and to our Creative Professionals Board. Thank you to all our donors and corporate partners. We're so grateful for the advocacy and friendship of such good people. THANK YOU THANK YOU THANK YOU. We are full STEAM ahead fueled by such an amazing night!
If you weren't able to join us, don't feel too bad. There's still many ways to support our students and get involved. Click the link below to make a gift and keep an eye out for upcoming events. Also, get on the list for next year's Color Ball now!
---
2023 Unreleased Games Arcade at City College in Harlem
A smorgasbord of gaming! Last Saturday, Gaming Pathways, the high-school track to a public-option degree in Digital Game Design, hosted the 2023 Unreleased Games Arcade at CCNY in Harlem. Twenty original games were up for just four prizes, with 130 students, game developers, and supporters in attendance.
Curious gamers could play unreleased games & games currently in development, as well as meet college-level & professional game designers from studios including Playmatic Studios & more.
Urban Arts alumni took home two out of four prizes for Most Anticipated Game 2023: Report on the Death of Robert Evergreen (Darcelis "Darcy" G. + team,) & Best Game Mechanics: Cyber Dome (DaquanG. + team).
---
Student Game
Urban Arts Alum Sarah Applebaum and team at Rutgers University have created Project W(erewolf), a puzzle game that explores the true nature of science through werewolves! They're nearly halfway to their goal. Click below or scan the QR code to support their work and help them get over the finish line! UPDATE: IT'S FUNDED!!!!!
---
---
Coming Soon…
Urban Arts' corps of Alumni Ambassadors will be kicking off a new talk series from our Learning Lab in NYC and live streamed through Zoom. This series will enlighten our audiences on the inner workings of gamified education at Urban Arts and will also engage guests in discussions around career access and professional development. This series will kick off in April 2023. Stay tuned!